Home
Current Productions
Birthdays

Puppet-Making Workshops
About Us
In the News
Testimonials
Payments
Links
Contact Us
| | |
| --- | --- |
| | Here are more comments about Carousel Puppets... |
"The children loved it. At no time did you lose [their] interest. We really enjoyed it." Preschool Staff, Beltsville Community Center, Beltsville, MD
"I love having Carousel Puppets. The show is always excellent and always works well with all ages!" Terri Gossage, Twinbrook Community Center, Rockville, MD
"MONSTER REVUE was PERFECT for the occasion! It could not have been better." Margaret Lynn, Coleson Cluster Homeowners Association, Reston, VA
"Susan takes puppetry a step further by involving the children hands on." Sarah Launius, Borders Books, Bowie, MD
"Music and action kept the kids involved, as did audience participation. Susan handled the large crowd very well and kept the show moving along. I was also impressed by the puppet-making workshop. The kids enjoyed creating hand puppets and they came up with unique characters." Susan Salpini, Purcellville Library, Purcellville, VA
"Susan's puppets are some of the most outstanding I have ever seen." Rachel Rosenthal, Everybody Wins!, Washington, DC
"Your show was terrific and all the children are still talking about it." Debra Dunn, Arlington, VA
"Enjoyed your hi-energy performance and ability to move about so that the kids stayed interested." Jacqueline Murray, Deerfield Run Community Center, Laurel, MD
"We enjoyed the show tremendously. The children talked about it for days afterward." Kathy Bittinger, St Francis Episcopal Day School, Potomac, MD
"Thank you for helping us provide quality recreational experiences for so many people" Stephen Torpy, Claude Moore Park Manager, Sterling, VA
"It was well suited to the variety of ages. The frequent character changes kept everyone's attention." Serena Leogue, McKinsey & Co, Washington, DC
"Audience really liked it. Very professional; amazing dexterity" Sue Llewellyn, Bull Run Library, Manassas, VA
Susan Wall and Carousel Puppets have been delighting audiences for over 35 years. As artistic director, Susan creates all the puppets and oversees all aspects of the productions. Shows are available for all occasions: pre-schools, elementary school assemblies, libraries, parks, holiday and Christmas parties, corporate events, shopping malls, camps, company picnics, and birthday parties, just to name a few. Puppet making workshops are also available for children and adults. In the children's workshop, Susan guides the children in the making of a puppet of their own to take home. We can also provide goody bags for children to take home.
We primarily serve the entire DC metropolitan area: Northern Virginia, Suburban Maryland and Washington, DC.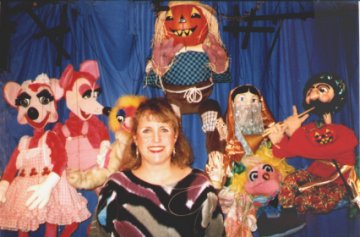 In addition to pulling strings as a professional puppeteer, Susan Wall is also a trained actress and singer. Her stage presence captures the children's attention from the start as she puts on a musical puppet show that will thrill and delight audience members of all ages.
Susan's puppet engagements have taken her throughout the U.S., Canada and the Caribbean. She has toured with Nicolo Marionettes and the world-famous Bil Baird Marionettes and has appeared off-Broadway in the Bil Baird production of Alice in Wonderland. Recently, Susan took a class at the University of Connecticut with world-renowned master puppeteer, Albrecht Roser, where she learned some advanced puppetry techniques.
Clients of Carousel Puppets include Software AG, Accenture, McKinsey & Co, Pan American Health Organization, Everybody Wins, National Education Association, New York City Parks and Recreation, Loudoun County Parks and Recreation, Lucketts Fair, Burke Festival, Maryland National Capital Parks, Loudoun, Fairfax and Manassas Libraries, Dulles Town Center, Springfield Mall, Ballston Mall, Montgomery Mall, Miracle of Lights, and numerous other pre-schools, school assemblies, libraries, parks, and shopping malls all around Virginia, Maryland and Washington, DC. Carousel Puppets has also performed at many government facilities, such as the CIA, IRS, Library of Congress, and the Office of the President.
Susan has held several offices, including President, of the Puppetry Guild of Greater New York. She is currently an officer of the National Capital Puppetry Guild and a member of the Puppeteers of America, UNIMA-USA, the Screen Actor's Guild (SAG) and Actor's Equity.
Susan lives in Sterling Park, Virginia with her husband and several cats

Call (703) 444-9426 or e-mail us today for more information
or to plan your next event.